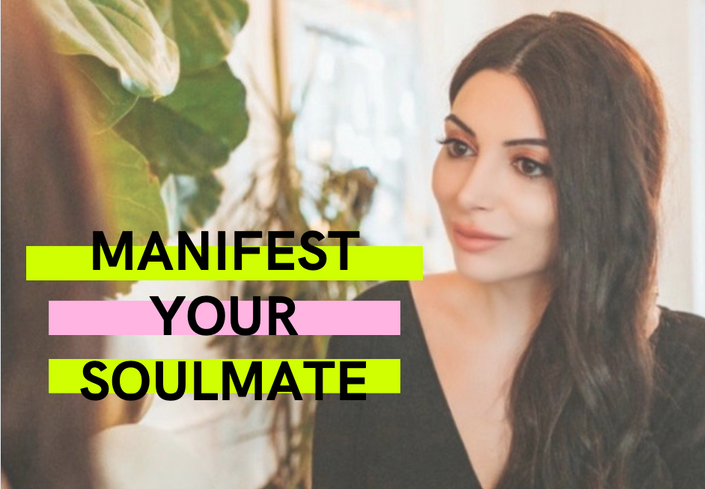 Manifest Your Soulmate
The ultimate course for singles who want to attract "the one" & the relationship of their dreams through the Law of Attraction.
ENROLL FOR $97!
HAVE YOU EVER SAID TO YOURSELF…
"Love is not for me, all my relationships seem to fail"
"Maybe I'm not cut out for love and should just settle for being single"
"I'm not good enough or worthy to attract in my soulmate"
"Love is only for special people"
"Dating and relationships are so hard these days. I feel like I'll never find the person for me"
"All the good ones are taken"
"I'm going to be single forever"
"I only attract situationships and partners who don't take me seriously"
YOU'RE NOT ALONE.
It's no secret that finding true love ranks at the top of our wishlist.
Love is amazing, freeing, joyous and life-changing, when done right. Having the love life of your dreams gives you extra strength and courage to achieve your big dreams.
Sadly, so many amazing people never find love. They give up on love and decide to be single forever. They believe the lies above. Or, they decide to settle and live in misery. They settle for crumbs and stay in toxic relationships because they think they have to.
But have you noticed? Setting in love or giving up isn't getting you the results you really want.
In fact, it reminds you day after day that you're not living in your true purpose...which hurts. Here's the truth you need to know:

Everyone has the ability to manifest love.
Simple mindset, energetic and confidence shifts will take your love life to the NEXT level.
If you're not seeing the results you want in your love life, giving up is not the answer. If you want to attract in the one and your dream relationship (it's possible), you just need to learn a new way of being, thinking, and believing.
You need to change your focus and recognize that you have the power to manifest in your dream relationship.

Everyone has the power to manifest love. You are not less special or lucky than anyone else. The chances are in your favor. I'm here to teach you how to fully trust the process and how to use it to your advantage.
This process is SIMPLE and EASY. I know this because I have used these same principles to manifest my current partner, after being in a toxic relationship.
I believe you deserve so much more in love.

This course has been created to prepare you, on all levels, to manifest the love life of your dreams. My methods work so well because I help you own your power and implement practical strategies TODAY.
I don't focus on BS such as how you look, what you wear, how you text your date, how you flirt and anything else that doesn't matter.
I bring it all entirely back to you, because you have full control over your love life.

The mindset and energetic shifts I teach in this course have not only transformed my own life, but hundreds of my clients. This course has helped clients of mine manifest husbands, life partners, and the love life of their dreams.
Once you go through this course, you'll feel so confident in knowing that love can be yours. This course is a total inner and outer transformation like no other.
You have the power to become a magnet to the partner and relationship of your dreams, let me teach you how.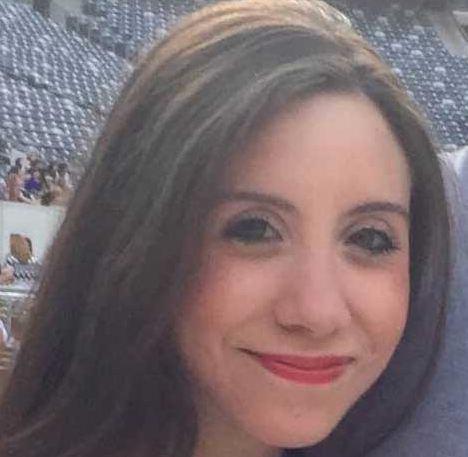 "I can't begin to explain how much this course means to me and the results it has gotten me. I came across Jacqueline's work a few years ago when I was in a really low period. I LOVED her quotes and everything she would post. I was in a bad relationship at the time and she gave me the courage to finally pick myself and leave. After going through the motions of the break-up and so many ups and downs, I saw that Jacqueline was releasing a love course. I messaged her about it, asking if it would be appropriate for me since I was also trying to get over a break up. She told me that it would help me feel better, love myself and learn how to attract in love for the right time. I am so glad that I listened and got the course, because what happened after is still amazing to me. After going through the course for a few months (I literally was obsessed with it and learning more about Law of Attraction/love), I was feeling better and more in control of myself. I have never felt so confident and content in my life. I just knew that when my time was right, love would find me. To my surprise, I met my current partner at that time in my life. We dated slowly for a few months and decided to be in a relationship since then. This is a huge deal for me, because until then I had never really dated someone who wanted to commit. It has now been over 2 years and it's the best relationship of my life. We have been talking about getting engaged and taking the next step, something I never thought would happen to me. My partner reminds me from time to time that the way I presented myself and my confidence was what attracted him to me. He states that my energy has made him love me. I owe that all to this course and the way I have learned to love myself. If you have love on your mind or even if you don't, I recommend getting this to fully learn how to use your power to love yourself and find love. Jacqueline is truly one of a kind and I absolutely would recommend her work to ANYONE!"
- Rachel Johns, past student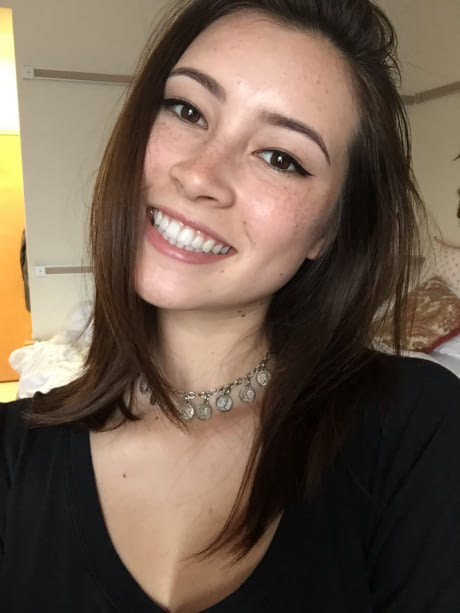 "Before taking this course, I was lost and spinning my wheels in my love life. I was in a 5 year on and off relationship with a guy who I thought was the one. I decided to take this course because I was done with the confusion. I was nervous but excited at the same time..doing something new was scary. I immediately felt safe and warm when I took the course. It was difficult at times as a lot of my stuff kept coming up..I realized some patterns I had which were keeping me back. It was time that I let him go, and I did. It was hard but I felt it was time. I feel like that opened me up for love. It wasn't even a few months after that I actually met a guy who was different. We have been dating ever since, he wants a relationship and is open to it. Is this real life?! I am so thankful for this course. I probably would've been so stuck without it." - Elena

- Elena, past student
INTRODUCING THE ULTIMATE LOVE COURSE FOR ANYONE WHO WANTS TO ATTRACT LOVE & IMPROVE THEIR RELATIONSHIPS,
MANIFEST YOUR SOULMATE.
How does the course work?

The course contains 6 pre-recorded classes, that range from 60-80 minutes each. Each class feels like a personal coaching session, with tools, techniques, prompts and material to transform your love life.
You will directly hear from me explain the material, with the perk of all of my slides on Powerpoint.
If this course was taught live by me, it would easily be in the thousands because of the material provided. With this self study course, you are able to save money and go through the material at your own pace. It's truly a win-win!
Get access to all of my slides AND personal guidance in each class..it'll feel like you are in a one on one coaching session with me.
All of the course materials, including countless real-life examples are immediately available within the online student portal. You will have lifetime access.
Who is this course right for?

Anyone looking for the love of their life - "The One."

Anyone who wants to manifest their ideal relationship & not settle in love.

Anyone who is willing to do the mindset & energy work.

Anyone desiring a stronger relationship with the Universe and their higher self.

Anyone who is ready to step into the best version of themselves.

Anyone who's excited for change and ready to apply new knowledge.

Anyone ready to drop their limiting beliefs in love.

Anyone ready to make peace with the past and move on.

Anyone who sees this course as an INVESTMENT for their future.
Who is this course not right for?
Anyone looking for a magical love potion or a quick fix without doing the work.

Anyone who thinks they know it all already.

Anyone who doesn't think a part of attracting love is working on herself.

Anyone who doesn't want to do the inner work.

Anyone unwilling to take 100% responsibility for their reality.

Anyone who doesn't believe in manifesting or the Law of Attraction.

Anyone looking to "steal" someone else's love or use this material for negative use.
HERE'S EXACTLY WHAT YOU'LL LEARN IN EACH CLASS: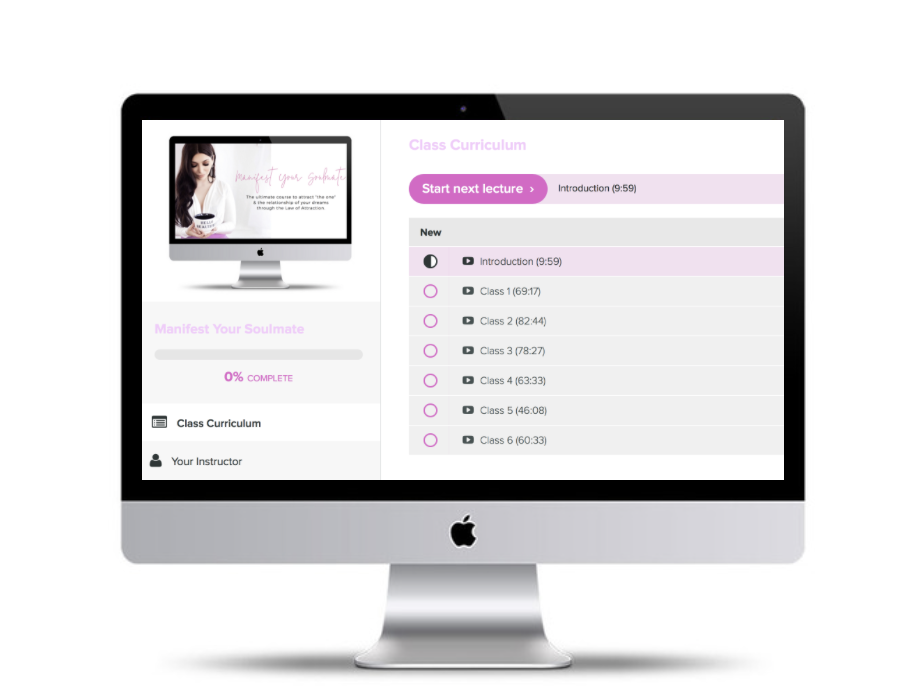 CLASS 1: MASTER YOUR ENERGY + TAP INTO THE EFFORTLESS MANIFESTING POWER YOU HAVE
Understanding the Law of Attraction as it applies to manifesting love
Learning how to effortlessly manifest + how easy this process can be
Owning your power as a co-creator of your reality
Why most traditional manifesting advice gets in the way
Learning how to trust in the Universe + divine timing
How aligning your energy works miracles
Recognizing your divine nature and only accepting the best life has for you
Understanding your thoughts and beliefs in love
Using your feelings as guides and your messenger to what you are manifesting
Understanding the power you have in changing who you attract
CLASS 2: RELEASE, LET GO & REWRITE LOVE STORIES THAT HAVE BEEN HOLDING YOU BACK. LEARN HOW TO FORGIVE AND USE YOUR PAST TO EMPOWER YOU
Clearing your past conditioning, beliefs, thoughts about love
How to find out what your limiting beliefs are
Learning how to SHIFT the beliefs that don't serve you
Recognizing your mirror in love and why you have been attracting love you don't want
Learning how to deal with negative thoughts & fear
Learning how to release past ex's and relationships
Letting go of the past and using it to empower you
Forgiveness work
Clearing energetic & physical space for your soulmate
How to make space for your soulmate to come
CLASS 3: THE 3 STEP MANIFESTATION PROCESS IN DETAIL LIKE YOU'VE NEVER HEARD IT + PRACTICAL STRATEGIES TO IMPLEMENT RIGHT AWAY
Teaching you my 3 step manifestation process for love
Action steps you can take right now to begin aligning to love
Learning how to ask for your soulmate + dream relationship
Getting clear on what you want out of love
How to get what you want and more in a relationship
Transitioning from fear to having belief that you will find the one
Developing unshakeable belief in this process, so love comes to you fast
My best exercises to bring love into your life, such as tracking love, vision boards, affirmations, meditation, gratitude, visualization exercises & on
Learning how to receive love + accept it into your life
How to let go of control and the "how/when" love will come
Action steps that will make you open to receive love
CLASS 4: TUNE INTO YOUR ENERGY + LEARN HOW TO ACT FROM INSPIRED ACTION FROM THE UNIVERSE. LEARN HOW TO STOP FORCING LOVE
Tuning into energy
Learning how to get in touch with your intuition
Getting comfortable acting from inspiration and letting your inner wisdom guide you
The difference between acting from fear vs intuition
Forced vs inspired action
Knowing when to take action and when to step back
Letting go of DOING action that doesn't serve you
Learning how to stop forcing love
Acting like the version of yourself who is with their soulmate
Recognizing tests from the Universe and knowing what to do
How to recognize and celebrate stepping stones
CLASS 5: UNDERSTANDING TESTS FROM THE UNIVERSE + ANSWERS TO THE MOST COMMONLY ASKED LOVE MANIFESTING QUESTIONS
Guidance in regards to common scenarios and situations that may come up
Scenarios that are good but your mind will interpret as bad
How to deal with bad days & bad funks
How to know that the process is working
How to deal with family & friends who are unsupportive
Learning what to expect when you start dating
Understanding different tests from the Universe
Letting go of become too attached & trying to manifest someone specific
What to start expecting when you align with your soulmate
Positive signs that the process is working
Getting greater clarity on the steps to take after the course
CLASS 6: BECOMING THE MOST CONFIDENT + SELF LOVING VERSION OF YOURSELF, SO YOU BECOME A LOVE MAGNET
Understanding how confidence is the ultimate love magnet and manifesting secret
Learning my magic formula for manifesting quickly with confidence
How to be confident and develop self love right away
11 therapy + spiritual principles to help you become confident
How to be confident when it comes to dating
How to become the most irresistable version of yourself
Developing self respect for yourself
Becoming the version of yourself your soulmate is waiting for
How to feel the best you've ever felt in your own skin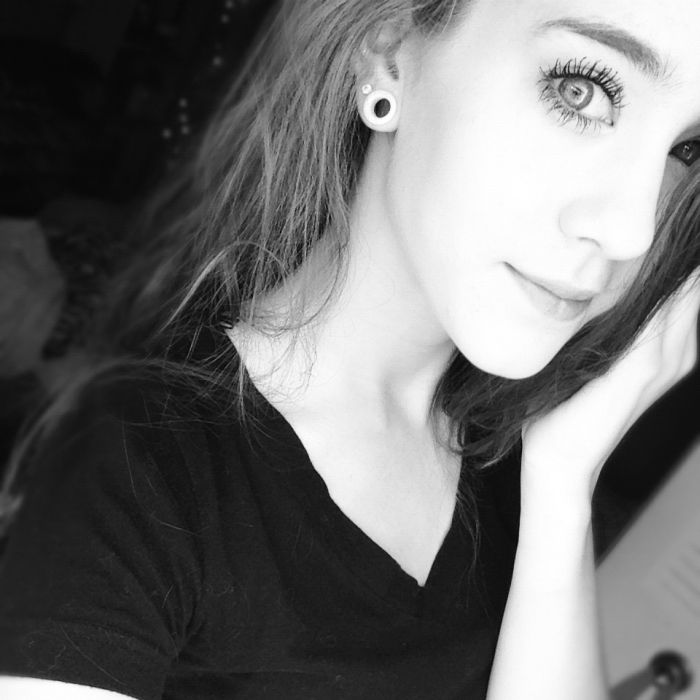 "Through teaching me the Law of Attraction principles and helping me to find my own strength, Jacqueline has helped me attract my soulmate. I went through this course and was instantly amazed by the content. For the first time, I felt that I had the power and could write the story of my love life. I had been in several dysfunctional relationships, and finally decided to take the plunge and get this course. Best decision I ever made. Within a few months of taking the course, healing, and doing the work, I felt better than ever. I even met someone who I know is my soulmate. For once, I am happy in love and can now share with others what I have learned through Jacqueline and her guidance. Get this with no hesitation. Best love guidance you can ever get."
- Katarina, past student
Your Instructor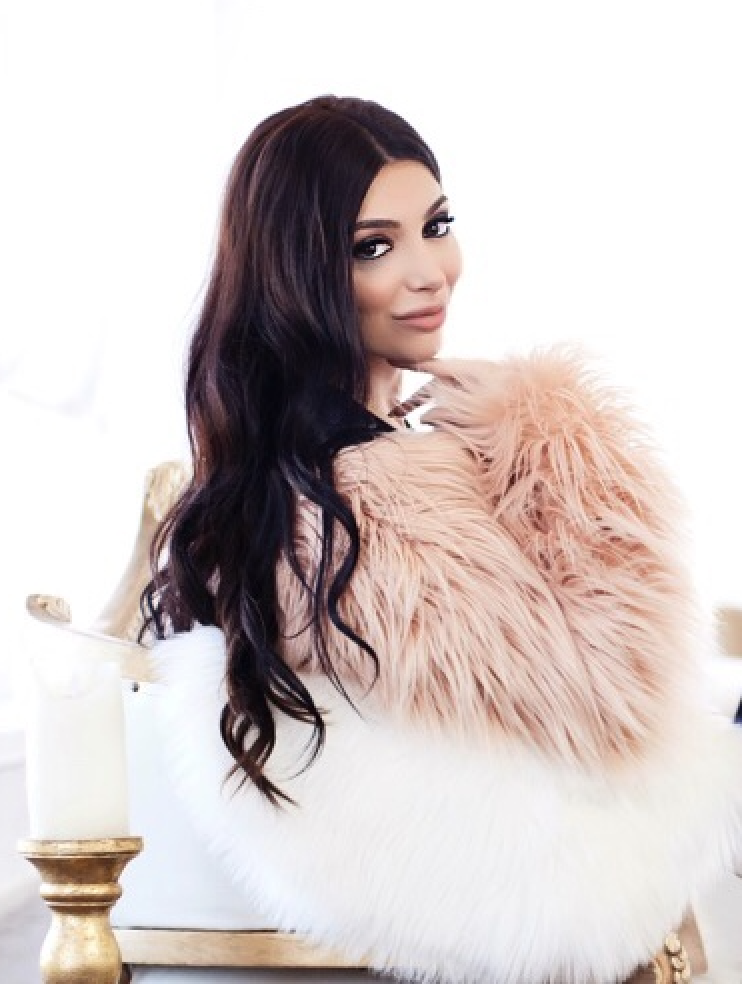 Welcome beautiful!! My name is Jacqueline Kademian and I am a Licensed Marriage & Family Therapist, Author and Business Coach for entrepreneurs who want to launch their own profitable business.
I am SO beyond excited you are here. I believe our paths have crossed for a reason, and there's a divine reason you are here.I am passionate about helping you step into your potential and co-create your best life yet.I am here to empower you to step into the magic and confidence of who you are meant to be, on a soul level.
You can align with your desires and manifest anything you want in this beautiful life. The dream business, money, confidence, love, abundance are all waiting for you. I'm all for helping you STEP into the version of yourself who can be, do and HAVE anything that she wants.
If you really want to make a massive change in your life, take it from someone who has been there. I've walked in your shoes for a reason - so that I can teach you how you can also improve your life. Let me help you manifest a reality wilder than your dreams! XO
Frequently Asked Questions
When does the course start and finish?
The course starts now and never ends! It is a completely self-paced online course - you decide when you start and when you finish.
How long do I have access to the course?
How does lifetime access sound? After enrolling, you have unlimited access to this course for as long as you like - across any and all devices you own.
Do you offer refunds?
Due to the nature of this course and the material inside, there are no refunds offered.
Can you guarantee success?
While it's never possible to 100% guarantee results, I guarantee that you will experience major shifts in your love life + life if you follow these principles. I also manifested my fiancé using these principles! The more open and committed you are to the material, the faster you will be able to manifest your soulmate.
Is this course only for those who are single?
While it is geared towards singles, the truth is that it will help everyone! This course is not only for singles, but also those in a relationship. The principles in the course will help you transform any existing relationship.
LOVE FROM PAST STUDENTS OF THIS COURSE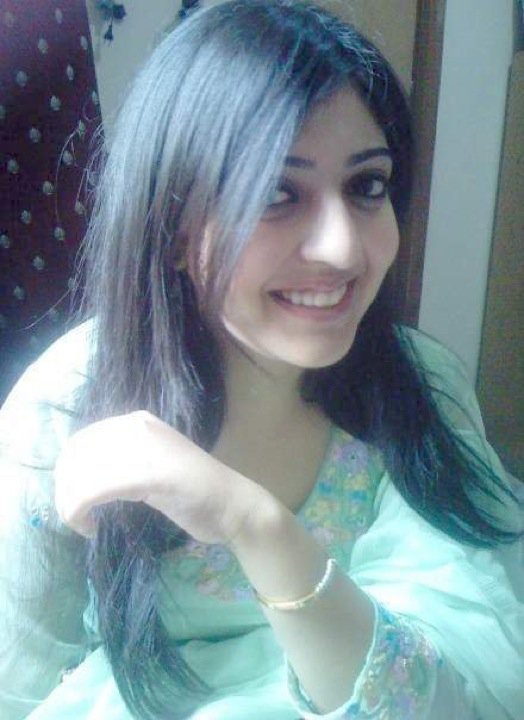 "Speaking to Jacqueline over Instagram for a few months helped me get the confidence to take this course. I was very very afraid, especially since I was deciding to finally take the risk. My love life up to that point was a mess, filled with unhappiness. I had been single for many years. I was feeling the pressure to date. I worried a lot that my time would run out. So I decided to take this course. Wow am I so glad I did!!! Even a few weeks after, I started to feel more confident, in control, and better about myself. It helped my confidence. I started to feel better. I did the exercises and the work as directed. It did just what it was supposed to do. I am still shocked at the results. Even though it's soon, this course helped me start dating someone, instead of pushing people away. I would recommend this to a million people if I could."
- Amara, past student
"I am so glad that I purchased this course and decided to work on my love life. Ive been living with fears and negativity for so long that love is not for me, you show me how it is for me and how to get it. Using these tools shows me how wrong I have been all along. There is nothing wrong with me, just how I was thinking and feeling. Already dear, I feel so much better about myself. You provide me the gift of confidence and hope with your products. I recommend this to everyone who wants to experience happiness, confidence and love." - Sandra"
- Sandra, Past student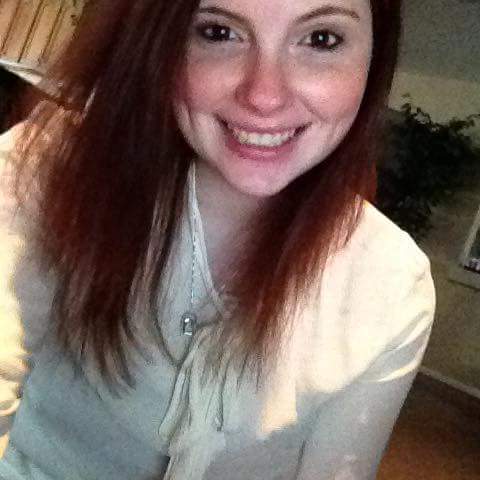 "Your course has changed how I feel about myself and love. I purchased it as a gift to myself and am so glad I did. I had no clue how much I would learn from it. I really thought love has passed me by before taking the course. You have taught me that it's not the case. I feel confident, in good spirits and calm because I know it will happen for me. The past few days especially Ive pulled back from trying so hard and already notice a difference. I get more approached to now and my friends say I am different. Thank you so much."
- Kate, Past student
"Hi! I bought this course at a time I was feeling really down and lost. I was a single mom and I hadn't really dated anyone in 8 years. I wanted so badly to have a relationship. I decided to buy this course. I did everything you said to do! I wrote it down, told the universe and then I believed it would happen!! And no joke it happened!! I've been married 4 months now and I could not be happier! I think listening to you was all I needed to trust that I could have whatever I wanted! So thank you for all you do!"

-Theresa, past student
"I wanted to let you know that I have completed this course and it was incredible. The course is packed with so much insight and guidance and coaching. It really is the ultimate guide. You are an amazing therapist and coach, I hope every woman is as blessed as me to work with you. You are so pure, honest and I just love this course so much".
- Karishma, past student
"Everyone I got this course and it's excellent. It's making me feel so much million times more confident in manifesting the soulmate of my dreams. It's helping me detach and also unexpected is that it's helping me in my career as well as I apply all of these principles. I absolutely recommend this course to anyone!"
- Alexia, past student
"I've had to tell you, I've done the homework for class 1 and I am already in tears. I had NO idea I had all this crap there. And now they are happy tears because I am grateful I can finally shift this. It's crazy but I asked the Universe yesterday to help me shift this unnecessary unworthiness I feel in my love life..an hour later I stumbled across your Instagram in the most random way. So grateful honey"
- Lydia, past student
"I would like to take this moment to thank you personally for the help you have provided me. I have always had a lot of love to share with others and have always wanted to feel loved and to find my one true soulmate. I have experienced a few heartaches growing up and a lot of pain in my love life, but I have never given up hope. When I came across this, I promised myself to get it and I do not regret that decision one bit, because it has helped me to reach the ultimate point where I am able to accept the situations I encountered in my past and although the pain did not feel nice at the time, it has helped to shape me into the strong, understanding and experienced young woman that I am today, and I have been able to move on from my past with acceptance and forgiveness. Now by doing all of that with the help of your book, the universe decided to open doors for me in my love life and I managed to find and truly connect with a guy that I believe is the one for me. We have been seeing each other for months but after taking this course that lead me to have an epiphany moment, and me and this guy have reached a beautiful point in our lives together and couldn't be happier in love with each other. You truly put your gift, effort and knowledge into creating this because I could feel it and I would truly recommend this to many, even those who do not have love on the forefront of their mind right now as this course helped to develop me personally, which shaped my mentality for many things in my life. But thank you so very much for this experience. Wishing you many blessings and I pray that your work reaches and blesses many more souls."
- Sarah, past student
MY GOAL IS TO HELP YOU MANIFEST YOUR SOULMATE, SO YOU FINALLY HAVE THE LOVE LIFE OF OUR DREAMS.
Hey beautiful! If you're still reading, you owe it to yourself to learn these skills that will help you have the love life of your dreams.
I believe that you are so worthy of having love. I believe that having the love life of your dreams can give you extra strength and courage to achieve your big dreams.

Here's the thing beautiful. I've been where you are, so I know what it takes to get you on the other side. You may not know me, but if you can trust my words, this course will be a game-changer for you.
If you feel called to do the work, this is the program for you.
This is the course that has helped past students manifest their HUSBANDS, soul partners + dream love lives.
Isn't it time you manifest love too?
Love works when you have a model that works. We invest so much in other aspects of our life, but why not in love, when love has the power to completely heal and change us?
It's time to stop losing time, opportunities and the love of your life. How much longer are you willing to wait for love? How much more time are you willing to waste? Stop putting love off!
You have nothing to lose and everything to gain.
Love is always the answer. Love heals. Love strengthens. Love can be yours sooner than you think.