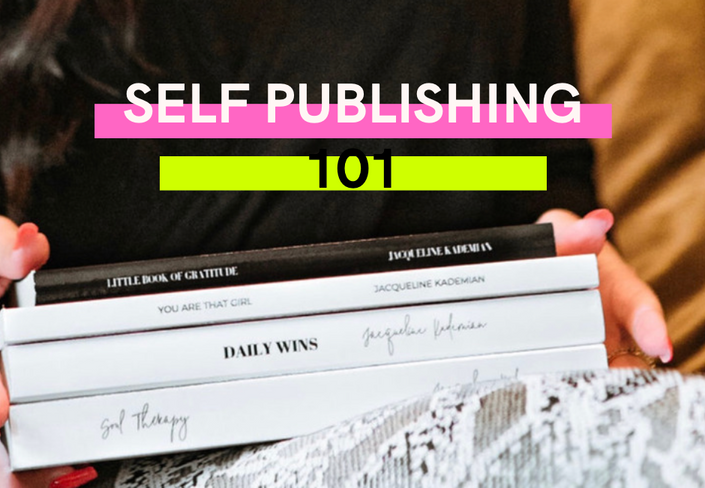 Self Publishing 101
The step by step course to self publish your first book on Amazon & become an AUTHOR!
HEY FUTURE AUTHOR:
Are you an aspiring author who wants to live the dream & publish your own book on Amazon?
Are you interested in self publishing & becoming an author?
Need an easy and simple guide on how this all works?
Want to know my best tips + tricks for selling more books & making more money?
Want to make an extra 1k, 5k, 10k, 20k+ EACH month selling your books?
There has NEVER been a better time in history to become an author.
Self publishing is on the rise, due to amazing companies like Amazon who make the dream of becoming an author possible.
With companies like Amazon, you are able to independently create your own book and publish it yourself with their system, with ZERO cost up front.
All you have to do is write your own book and then publish it on Amazon (which is what I'm teaching you in this course). Amazon then takes full responsibility for printing, shipping and sending your books.
This is a game changer.
Now, you don't need a major publisher to pick up your book and decide that they want to make you into an author.
You have the power to write your own destiny, to become an AUTHOR on your own terms.
So if you have the dream of becoming an author, you're in the right place.
INTRODUCING THE ULTIMATE COURSE FOR SELF PUBLISHING, THAT WILL SET YOU UP FOR SUCCESS.
Self Publishing 101 is the ultimate course for self publishing your first book on Amazon.

I'm here to help you drop the overwhelm, fear and uncertainty.
Just imagine...a few moments from now you can become an author. Yes, you read that right.
In this course, I cover everything that goes into publishing, from A-Z.
There are just a few things that you CAN'T Google - even though it would be great if you could!

I give you my absolute best steps for publishing your own book, as I've published six of my own.
I'll save you hours and hours of stress looking up all the answers on Google. No late nights and feelings of overwhelm. No difficulties with getting your book accepted by Amazon. You'll be able to ditch the overwhelm and focus on the most important task, getting your book out into the world!
There has never been a better opportunity than now for you to write your first book.
Whether you have your own business, work a corporate job, work part-time or don't work at all, publishing your own book is something you can do, right now.
Once your book is created and published, it can make you money ALL of the time, whether you are sleeping, working, on the beach, or walking your dog.
You also have full creative freedom, independence, the ability to write as many books as you want...and SO many more benefits.
Let me help you expand your influence, create an epic impact, and grow your income at the same time.
WHAT TO EXPECT IN THIS COURSE:
The course is a self study course & is held completely online.
The material has already been recorded for you, so you can learn at your own pace.
You will directly hear from me explain the material through 4 different classes.
Each class feels like a personal coaching session, with tools and techniques to help you self publish your first book.
I've also included a live demo of all the steps required to publish your book, so you have the ultimate confidence when applying these strategies.There are hours and hours of content ready for you to work on, with lifetime access.
You will also get all future updates + changes as they come.

HERE'S EXACTLY WHAT YOU'LL LEARN: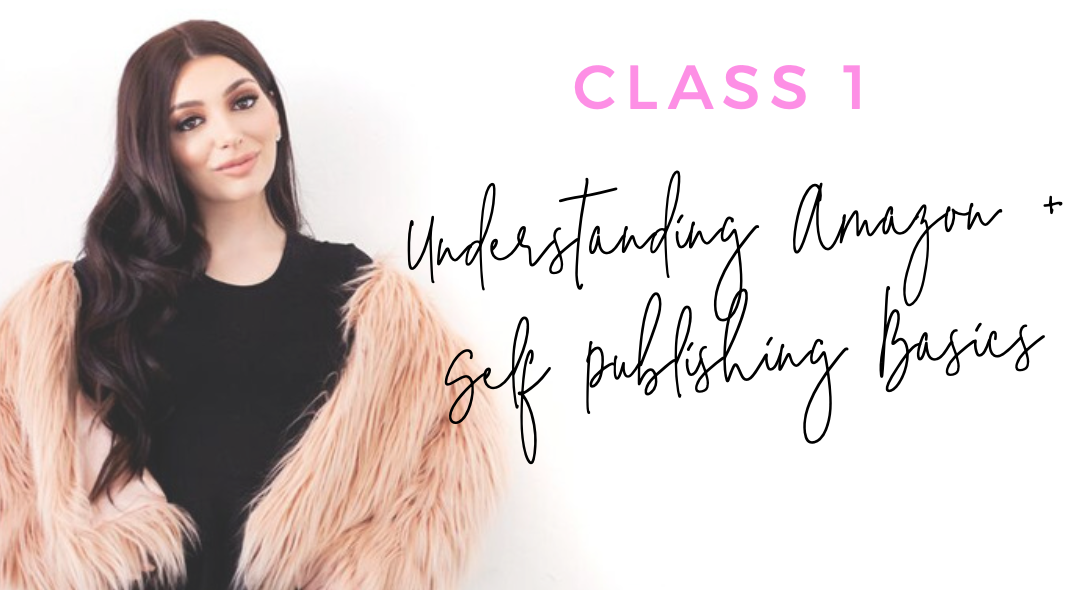 We start things off by getting you crystal clear on self publishing and what it entails. This class is your Self Publishing 411. What often holds people back is not knowing how the process works and what steps to follow.
In this class, I'm going over it all with you, from knowing what to expect, to managing your expectations, to learning all about self publishing. You'll fully know what to expect as an author on Amazon. I'll also share with you the ample opportunities available to you with this resource and how you can make passive income.


Now that you know how it all works, we're getting into the actual creation of your book. I'll help you understand what type of books to publish, how to pick a niche, how to format your book and how to avoid making any major editing mistakes.
I'll teach you how to get your book in tip top shape, so it's accepted by Amazon. We'll discuss what makes a great book and how to ensure your book is a hit. Knowing what to do at this stage will help you avoid many headaches down the line.



Now that you have your book ready to go, it's time to prepare all the technicalities of publishing your book! This class is very instrumental in the success of your book.
I'll be teaching you how to set yourself up for success, by helping you pick a relevant title, subtitle, categories, and keywords for your book. We'll talk about book descriptions and how to write a good one. I'll show you my best tricks for doing market research in your niche. I'll also show you how to create your own book cover.
This class will fully prepare you for actually publishing your book and getting it ready for sale. Knowing these steps will help you stand out above the crowd.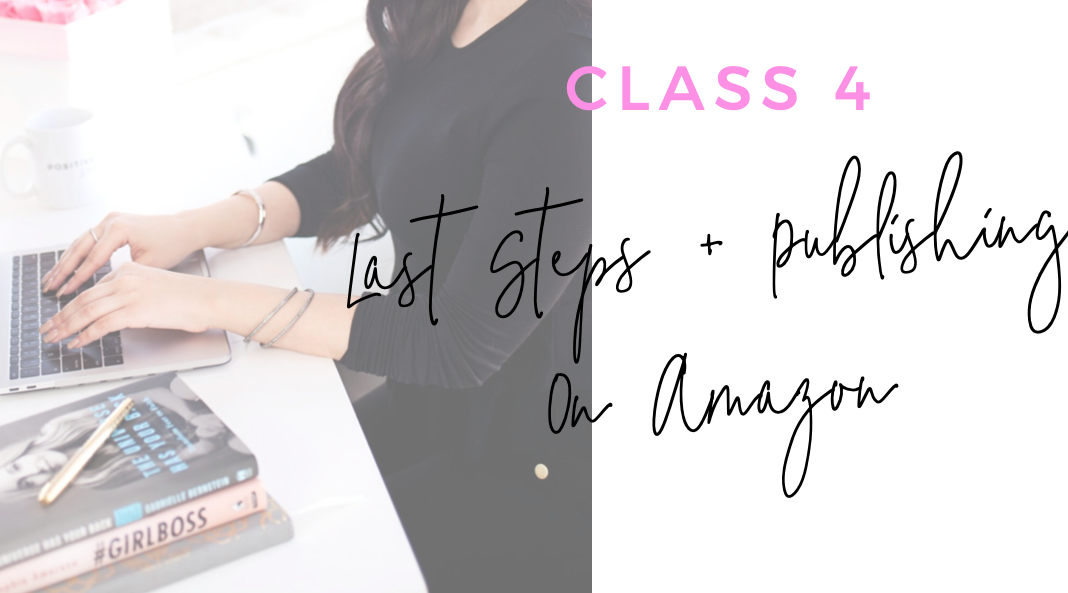 In Class 4, it's time to put all of your preparation to use. Now that you have your book ready, I'll be walking you through a live demo, teaching you exactly how to publish your book.
I'll take you step by step in my own Amazon portal, showing you what steps to follow. Get my best tips + strategies for publishing. Learn how to publish a paperback book (physical copy) and a book on Kindle (electronic version). After watching this class, you'll know exactly what to do when it comes to publishing your first book!
WHO AM I + HOW CAN I HELP YOU?
I'm Jacqueline Kademian, a Licensed Marriage & Family Therapist and Author.
If you've come across my work, you know I'm obsessed with helping entrepreneurs live out their dream lives. It's my mission to help you manifest your dream life and business.
I was able to add self publishing to my arsenal exactly one year ago.
To date, I've self published 8 books on Amazon: Soul Therapy, Soul Therapy 2nd Edition, Soul Therapy Couples Edition, You Are That Girl, What I Love About Me, Daily Wins, An Affirmation A Day & Little Book Of Gratitude.
I've even been so blessed as to have my Soul Therapy book became a #1 new release in it's category!
Self publishing has changed my business in SO many ways. People all over the world are able to buy my books. I have readers in most countries in the world. I'm able to be fully independent and creative. I'm able to make thousands of dollars each month in passive income. I'm able to create an impact in the world at an astonishing rate.
I also want this for you, and I know I'm the one to teach you how to get there because building a SMART business is what I help my client's do.
This course is everything that you need to know to self publish your first book, in the easiest way possible. I'm one for making things simple, so I know you'll enjoy this course.
Frequently Asked Questions
When does the course start and finish?
The course starts now and never ends! It is a completely self-paced online course - you decide when you start and when you finish.
How long do I have access to the course?
How does lifetime access sound? After enrolling, you have unlimited access to this course for as long as you like - across any and all devices you own.
Who will benefit from this course?
Anyone who wants to self publish will benefit from this course, including; New authors wanting to write a book and traditionally published authors wanting to self-publish their first book.
Will this course teach me how to publish an actual physical book?
Yes! This course will show you how to publish an actual book - one that you can hold in your hand. I'll also show you how to put that same book on Kindle (the ebook version),
Is this course only for people who have a business?
Absolutely not! Anyone can write a book. It doesn't matter if you own your own business, work a corporate job, or don't work at all.
Does Amazon handle all of the shipping, handling & customer concerns?
YES! This is what makes this opportunity so special. Amazon handles all of that for you, for a small royalty. It's so worth it because you don't have to do anything after you publish your books. Sit back and collect the royalties.
SAVE YOURSELF TIME, FRUSTRATION & STRESS BY ENROLLING IN THIS COURSE.
LET ME TEACH YOU HOW TO COLLAPSE TIME & GET YOUR BOOK OUT THERE, ASAP!
YOU'RE ABOUT TO BECOME AN AUTHOR & PUBLISH YOUR BOOK ON AMAZON TODAY...NO BIG DEAL.

I want you to take a moment and imagine a world where you could...
Publish your first book on Amazon: Become an author in as little as ONE day with my system. Accomplish your goal of becoming an author and be an expert in your field.
Authentically stand out above the noise: Your book becomes a go to resource in your niche. People see you as a leader, as you are making a difference in the lives of others.
Continually grow your business + make passive income: Make money daily on Amazon and continue to grow your passive income! The sky is the limit when it comes to how much you can make online.
Learn the tricks + tools to grow fast on Amazon: Learn how to get your book noticed by others with my system. This opens up so many opportunities for you.
Get my best tips + secrets: Learn how to make your book more searchable and noticeable on Amazon. I show you some little secrets on getting your book out there & making more profit!
If you feel called to create this lifestyle for yourself, then this is the program for you.

You get to accomplish all of this without being a celebrity, having special "status", going to writing school or anything else.
You get to become an author by being you, and committing to THIS course right here.
Are you ready to join me inside?