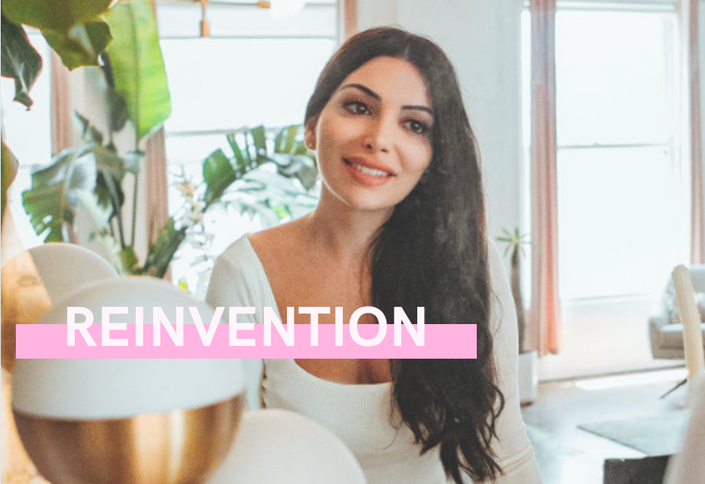 REINVENTION
The ultimate confidence + self love course to transform all aspects of your life, love yourself and become the most confident you to date.
HEY BEAUTIFUL, LET ME ASK YOU THIS:
Do you struggle with self-love, confidence or self acceptance?

Have you had strong self doubts and negative thoughts about yourself?
Do you find yourself comparing yourself to others?
Are you feeling overwhelmed and disconnected from your true self?
Are you sick of the "Be Confident" advice, with no action steps?
Would you love to feel whole, complete, confident and loving towards yourself?
Would you love to reach the highest potential in your life?
Are you ready to finally overcome negative self talk, build genuine confidence and enhance the quality of your life?
I'VE BEEN IN YOUR SHOES, SO I CREATED YOUR
SOLUTION.
For most of my life, insecurity and self doubt was my norm. I had a "good on paper" life, but I felt empty and lost on the inside.

In my early adolescence, lack of confidence translated into being a people-pleaser and doormat. In my early 20's, it translated into settling for bad relationships and downplaying myself.
After hitting a low point after a bad relationship, I was ready to make a change, for real this time. I decided to do whatever it took to bust through my blocks and become the woman I was born to be.
The process wasn't easy, but it was worth it. In fact, I created this course because it's what I wish I had when I needed the most help.
As I elevated my self-love and confidence, my whole life changed.
I finally had the courage to start my own business. I met my dream partner and stopped settling in relationships. I stopped being a people-pleaser and doormat. I stopped comparing myself to others. I spoke about myself differently, instead of constantly downplaying myself. I started to meet my own needs and go after my dreams. I started to tap into my magic and create the life of my dreams.
All of this happened because I decided this was going to be my reality.
I was the one that had to change.
Lack of confidence impacts everyone, from every walk of life.
I want to help you break out from this cycle, because life is so much more fulfilling when you are filled with love and confidence for yourself.
Here's what I know to be true: The path to confidence doesn't have to be so overwhelming. Confidence is a SKILL you can learn. With Reinvention, I'll take you step-by-step from where you are to where you want to be.
CONFIDENCE IS THE MISSING INGREDIENT IN YOUR LIFE, THAT HAS THE POWER TO CHANGE EVERYTHING.
Loving who you are, appreciating your journey, and being unapologetically yourself is the missing piece in living the life of your dreams.

When love and confidence for yourself isn't flowing, you're out of sync with yourself.
I want to change that for you, which is why I created this course. Reinvention has been created to prepare you, on all levels, to become the most confident you could be.
The truth is that you already have that magnetic confidence inside of you, it's just that you've lost touch with it. At your core, you are confidence, love and abundance.

This course has been created to prepare you, on all levels, how to become genuinely confident. My methods work so well because I help you own your power and implement practical strategies TODAY. I bring it all entirely back to you, where the magic happens.
Confidence is your birthright and you don't need to suffer from doubt, negativity and insecurity anymore. Take it from me, I've experienced both sides and I can tell you which side is better (hint: it's not insecurity!).
Life is so much more amazing once you learn how to tap into your confidence & live in your true essence. Confidence work is the groundwork. It is the laying of the foundation of your life.
EVERYTHING in your life is tied to your confidence and how you feel about yourself.
CONFIDENCE IMPROVES ALL ASPECTS OF YOUR LIFE.
YOUR RELATIONSHIPS, FRIENDSHIPS, BUSINESS, HEALTH + QUALITY OF LIFE ARE GREATLY IMPROVED WHEN YOU FEEL GENUINELY CONFIDENT.
EVERYTHING in your life is tied to your confidence and how you feel about yourself.
Now you may be wondering, how is this course different?
What if I told you there are certain principles and tools that I have found to reprogram my mindset, connect to my magnetic energy, and reinvent my confidence?
What if you were presented with a radically fresh approach to confidence, that does not involve empty promises?
What if you finally learned the necessary inner and outer work to bust through your blocks, step into your self-worth, and reinvent your entire life?
And what if you learned all of this from someone who has been in your shoes?
If this excites you and tugs at your heart, you are at the right place.
It's not the time to give up on yourself. It's your time to shine.
You just need to learn a new way of being, thinking, and believing.
I believe in this course and I know it will transform your life, as it has transformed so many lives already.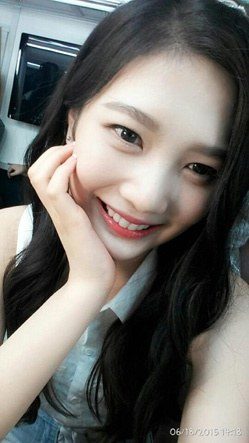 "You have to work with Jacqueline if you want to improve your confidence and self love. I remember when I first started coaching a few months ago, I truly felt a difference even after the first few days. I really enjoyed Jacqueline's style of work and her coaching. I never realized how much I was holding myself back. After taking this course, I feel even better. I keep improving my confidence. Looking back to where I was a few years ago, I can't believe I was that same person! Jacqueline has helped me own my self worth and understand who I am inside. I feel so much better about myself. I am forever grateful. Thank you so much for all of the knowledge and love you put into your work. You have a lifelong client in me."
- Grace L., student of Reinvention

WHAT TO EXPECT FROM THIS PROGRAM
The course is held online, with online classes that are meant to teach you the material.

Each class feels like a personal coaching session, with tools, techniques, prompts and material to transform your confidence.
You will directly hear from me explain the material through 5 different modules, which include 20+ video classes, PDFs, worksheets and on.
The course is divided into several different classes, to create the best learning environment for you.
There are hours and hours of content ready for you to work on, with lifetime access.
All of the course materials, including countless real-life examples are immediately available within the online student portal.
You will have lifetime access and access to any future updates.
Who is this course right for?
▲ Anyone looking to improve their confidence and self love.
▲ Anyone who is ready to step into the best version of themselves.

▲ Anyone who has been struggling with insecurity, self doubt and comparisonitis.

▲ Anyone ready to learn the essential skills of having confidence.
▲ Anyone willing to do the inner and outer work.

▲ Anyone who is ready to prioritize themselves in all areas of life.

▲ Anyone willing to let go of limiting beliefs, the past, limiting relationships and so forth.
HERE'S EXACTLY WHAT YOU'LL LEARN IN REINVENTION

CLASS 1: UNDERSTANDING CONFIDENCE + LEARNING HOW TO BE THE MOST CONFIDENT YOU TO DATE
Understanding the true definition of confidence + self love
Learning how to become more confident daily
Owning your power as a co-creator of your reality
Why most confidence advice does not work
Learning how to genuinely work on your confidence + self love
Going over myths of confidence + what confidence isn't
Recognizing your divine nature and only accepting the best life has for you
Confidence baseline questionnaire to gain awareness about your current confidence levels
What to expect from the course + how to get the best results
CLASS 2: UNLEARN NEGATIVE PATTERNS + RELEARN POSITIVE HABITS. LET GO OF NEGATIVITY THAT NO LONGER SERVES YOU. MASTER YOUR MINDSET + LEARN NEW COPING SKILLS.
Clearing your past conditioning, beliefs, thoughts that no longer serve you
Understanding what leads to insecurity/lack of confidence and how to shift from it
Recognizing negative self talk + learning how to cope
Taking control over your thoughts vs your thoughts taking control over you
How to find out what your limiting beliefs are
Learning how to SHIFT the beliefs that don't serve you
Forgiveness work
Clearing energetic & physical space for confidence
Coping skills to help you manage triggers and deal with insecurity/doubts
How to unlearn negative patterns and add positive habits into your daily life
CLASS 3: REINVENT YOUR LIFE BY LEARNING HOW TO TRANSFORM YOUR RELATIONSHIPS, SENSE OF SELF, ENVIRONMENT, PAST + MORE.
Letting go of the past and using it to empower you
Clearing past experiences that have led to lack of confidence
Forgiveness + empowerment work
Learning how to let go and thrive in the present
Healing and reinventing your relationships
Learning how to set boundaries in relationships
Taking an inventory of relationships + making empowered choices
How to stop comparing yourself to others and falling victim to comparisonitis
What to do when you feel "behind" in comparison to others
How to set standards + rules for your own life
How to reinvent your environment + act as the most confident you to date
Decluttering + the importance of cleansing your energetic space
CLASS 4: UNDERSTANDING + APPLYING THE 7 PRINCIPLES OF CONFIDENCE THAT WILL TRANSFORM YOUR LIFE. HOW TO PRACTICE BEING CONFIDENT DAILY.
Learning about the 7 main principles of confidence + how they impact your life
How to have more self awareness + understanding towards yourself
Becoming more self compassionate with yourself + learning what true compassion is
Practicing the art of self acceptance
Learning how to love + accept yourself for all that you are
Understanding what self respect is + how to practice it into your daily life
Making self respecting choices in all aspects of your life
Learning how to trust yourself + develop your self trust muscle
Importance of self care + how to apply self care into your daily life
Self expression + how to remain true to your authentic self
How to live life on your terms + fall in love with yourself daily
CLASS 5: APPLYING THE LAW OF ATTRACTION TO YOUR CONFIDENCE ROUTINE + MOVING FORWARD.
Understanding the Law of Attraction as it applies to your confidence
Learning how to effortlessly manifest confidence daily
How to act as if you are the most confident version of yourself
How aligning your energy works miracles
Recognizing your divine nature and only accepting the best life has for you
Understanding the power you have in this process
Finishing touches for how to continue after this course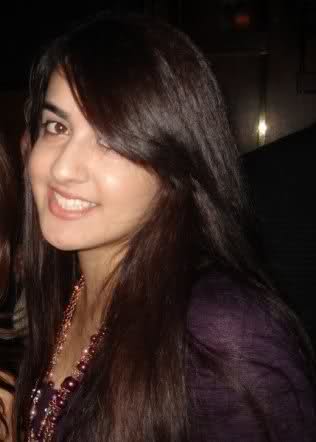 "After working with Jacqueline and going through the confidence work with her, I feel like an entirely new person. Before working with Jacqueline, I had lost touch with what made me special. I felt bad about myself and always felt insecure with others. I decided to work 1:1 with Jacqueline and get her book, which was such a great decision. Now I am able to practice the skills daily and increase my confidence day by day. So grateful for this magnifence guide thank you Jacqueline!!!!"
- Anita G., student of Reinvention
"Everyone needs this course!! Seriously. One of the best things you can do for yourself. So thought out, detailed, covers every aspect you need to know to feel good about yourself and live an all over positive balanced healthy life. I love how Jacqueline mixes law of attraction and psychology so you get the best of both worlds! I literally feel like I know what I'm doing in life now, my mood's improving day by day and I can deal with situations with more clarity! I'm so grateful for this course it's definitely a life changer I recommend it for every single person no matter where you are in life! I never write reviews but It was worth every penny I'm so grateful!"
- Linda L, student of Reinvention
Your Instructor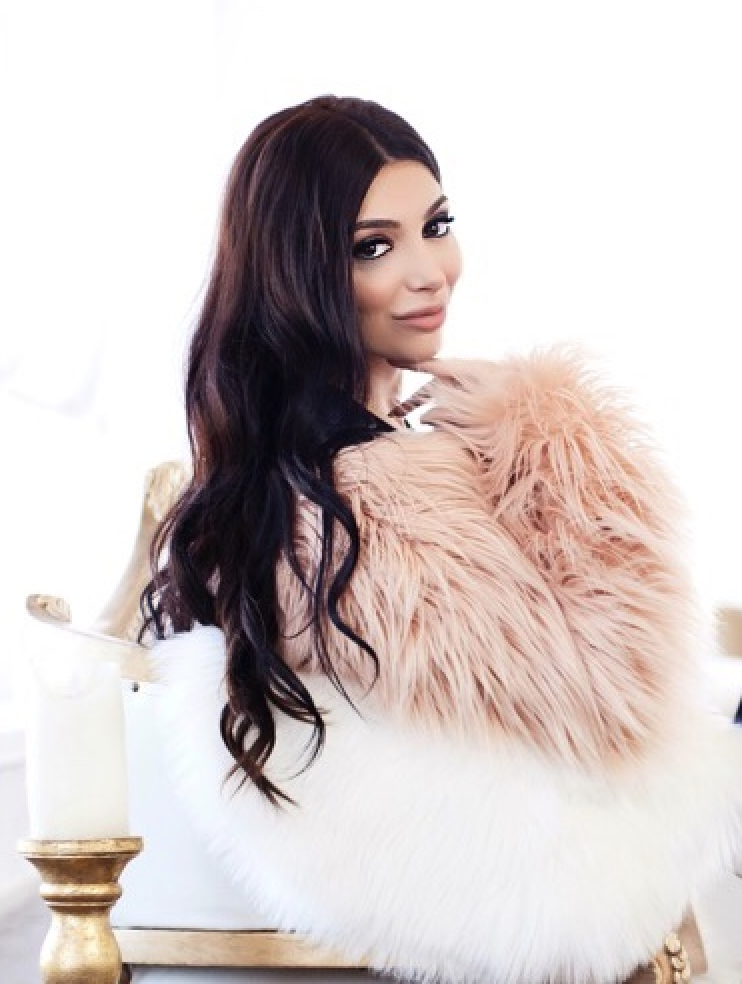 Jacqueline Kademian is a Licensed Marriage & Family Therapist, Author and Business Coach. She has her Master's and Bachelor's degree in the field of psychology.
Jacqueline has helped thousands of people find themselves, love themselves, and attract abundance into their life. Through the creation of this one-stop confidence course, she is on a mission to provide the most comprehensive confidence course on the market. Her mission is to help people love themselves and create their best lives. Her work blends psychology, manifesting and science.
Jacqueline has worked with thousands of clients, and continues to reach people all over the world with her work. She has a community of 107,000 people and counting. She has taken her knowledge of these topics and experience in helping others to create a confidence course that can change the life of many.
Frequently Asked Questions
When does the course start and finish?
The course starts now and never ends! It is a completely self-paced online course - you decide when you start and when you finish.
How long do I have access to the course?
How does lifetime access sound? After enrolling, you have unlimited access to this course for as long as you like - across any and all devices you own.
Do you offer refunds?
Due to the nature of this course and the material inside, there are no refunds offered.
Can you guarantee success?
While it's never possible to 100% guarantee results, I guarantee that you will experience major shifts in your life if you follow these principles. It will only add to your life.
Are there payment plans available?
Yes! There is a very flexible payment plan available below. You can get in for 1 payment today.
MORE LOVE FROM PAST STUDENTS OF REINVENTION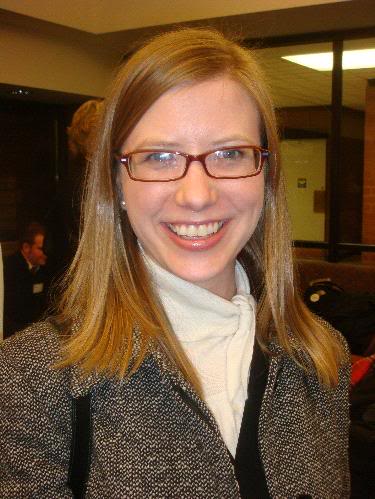 "I've always struggled with confidence my whole entire life. Before working with Jacqueline, I didn't know what I had to do to be confident. I would try different books and courses but it wouldn't stick. I ended up finding Jacqueline by landing on her Instagram. I decided to message her one day after taking her course, to work with her for coaching. Best decision yet!!! After working with Jacqueline for a few months, I feel much better and empowered, its like I feel like a different person. It means so much that I can work with someone who gets it!! I would recommend working with Jacqueline and taking this course with no hesitation. Jacqueline knows how to help you be the best version of yourself. Thank you!!!"
- Melissa K., student of Reinvention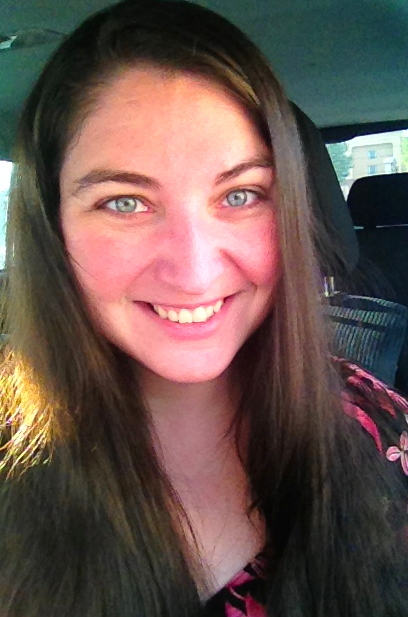 "Jacqueline, all of your books and courses are phenomenal. I can't wait to continue this course and learn from you. You have been my teacher and guide for over 8 months now and it has changed my life. From your books to courses, there is something for everyone. I've become more confident and solid in who I am and how I feel about myself. I also now am working up the confidence to pursue an online business. I feel lighter again and most importantly ME again. I can't wait to keep using these tools every day and become more confident."
-Kayla E., student of Reinvention
"Jacqueline I have been working with you 1:1 for over 1 year and you have helped me build my confidence and self worth & work on my mindset which has transformed my life. You have have helped me unleash my potential and reach new heights in my life. You continue to support me and coach me to reframe negativity, reach my goals and manifest my dreams. Your combination of CBT, spirituality and psychology are a perfect trio to help women like me to do "the inner work" that is necessary to build confidence and transform ones lifes. I cannot thank you enough for all the ways in which you have helped me. You will always be very dear to me and I would highly recommend you to any woman that would like to build her confidence and become the best version of her self because that is what you have taught me to become. THANK YOU so much. I am so grateful and I appreciate you. I feel blessed to have met you and to know. I love you. Thank you"
- Karishma V., student of Reinvention
"After reading Jacqueline's books and taking her courses, I feel better and feel more like myself again. I have learned how to respect myself, find my values and love myself. I feel more confident than ever after following Jacqueline's advice. I've tried many different techniques and books, but her style really hits home with me. Loved it and I purchase all of her products with no hesitation. You have to see this for yourself!!! Thank you."
- Shannon W., student of Reinvention
"Jacqueline you are an amazing coach and an amazing friend now. Working with you has helped me improve my confidence intensely, not only in the dating realm but in my life as well. I feel like I'm able to set boundaries and not be afraid, and go after what I want. If someone told me 2 years ago that I would have the guts to be this confident I would've laughed at them! So happy I discovered you. You're amazing babe."
- Alina A., student of Reinvention
JOIN HUNDREDS OF STUDENTS INSIDE & TRANSFORM YOUR LIFE, TODAY.
Hey beautiful! If you're still reading, you owe it to yourself to learn these skills that will help you have the confidence of your dreams.

You can make the decision today to change your life.
You may feel challenged when it comes to this confidence thing.
Most of us haven't been taught that having confidence is important, or even HOW to be good to ourselves. We feel awkward improving our confidence.

My specialty is helping you get the confidence you are meant to have, so you feel and be the most self-loving you to date.
Let me help you get to where you want to be.
I've been where you are, so I know what it takes to get you on the other side. You may not know me, but if you can trust my words, this course will be a life-changer for you.

EVERYTHING in your life improves when you're confident. Everything you ever want will be magnetized to you.
If you feel called to do the work, this is the program for you.
We invest so much in other aspects of our life, but why not in confidence, when confidence has the power to completely change our lives?
Take the next step. You have nothing to lose and everything to gain.
THIS SPECIAL OFFER EXPIRES SOON. DON'T MISS OUT!
"First of all I want to say thank you thank you thank you! Your courses have helped me out so much! Please keep on blessing all of us with your knowledge. At the beginning of the year January 2019 I was in a very low point in my life. I had zero confidence always comparing myself with other girls because I thought I wasn't good enough. knew something was wrong my intuition was speaking to me but I didn't know what that was or even meant. I was a believer of LOA so I but didn't know how to apply certain things. I prayed to find the help to help myself for a good podcast or anything to help me and guide me. 2 days later I was blessed with your podcast. No other podcast called my attention like positive soul. I started applying your techniques little by little and 9 months later I'm a confident, self loving , and im 100 times better at manifesting. I bought your reinvention course, how to manifest course, and your journal. The best investment ever! It's like I'm a whole new person I started attracting self healing tools. It was my own self sabotaging thoughts holding me back from moving forward. Everything is so clear now I know I'm destined for greatness. I owe so much to you and your great work. I love you and once again thank you for everything."
- Brittany Michelle, student of Reinvention